Hello My sexxxy Kinksters!!!

Y/you are invited to the kinky play party XXXtreme Fetish NYC
Presented by Goddess Shea and Felix the Lucky slave.
I will be giving a live S&M performance at midnight,
I hope Y/you're there to see My whip swing!!!

Sincerely,

Lady Zombie

http://www.LadyZombie.com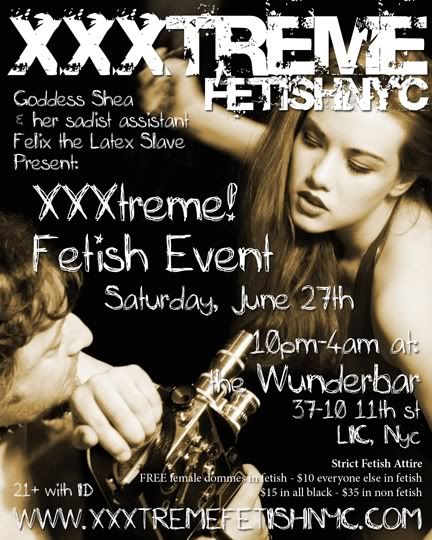 Date: Saturday, June 27, 2009
Time: 9:00 PM to 4:00 AM
Where: Wunderbar [21+ with VALID ID]
Address: 37-10 11th Street
[Long Island City, Queens – 10 min from Manhattan]
Dress Code: Strict fetish!
Cost: Free for Female Dommes in appropriate attire.
$10 for everyone else in appropriate attire.
$15 in all black.
$35 in street wear and non-fetish.

Description
CUM give into Y/your deviant desires and behaviors! W/we will be having kinky performances, showing films, causing major ruckus and taking LIC/Queens for a ride T/they have never seen before! Don't miss out on this kinky adventure! W/we will be bringing O/our Luscious Foot Feast to you as well. W/we will be having some of the most XXXtreme fetish and kinky play that W/we have seen in a while! Check out O/our all German bar and restaurant - food served all night! Happy Hour from 11-midnight!

W/we will be filming this month, so don't forget to get Y/your appropriate wrist bands at the door to let U/us know if Y/you want to be on camera or not!

Remember this is a strict fetish event. Please dress appropriately! Otherwise W/we shall be enforcing a heavy door fee.

Dungeon Equipment Built and Provided by: www.iluvnate.com & XXtremefetishNYC!!!
Bring Y/your toys and be ready to play! W/we have a toy check in for Y/you kinksters!

Music: DJs Xris SMack (Stimulate and SMack!)
The Merc

Visual: Video Stimulation by Felix the Lucky Slave, XXXtremefetish, SMack! video lab, Photography by iluvnate.com.

Performances by: Goddess Shea and her sadist assistant Latexx Felix
Lady Zombie (P.O.V)

Guest Dungeon Mistresses: Mistress Angelina (Hidden Chambers) Goddess Narcissa (LSDS) Mistress Tanya, Mistress Aleksa (LSDS) Mistess Michelle Lacy (LSDS) and more!

Sponsored by: SMack!, Stimulate, Le Salon DeSade, Baroness, iluvnate.com, w/ special appearance by carpet guy!

Directions:Take the F train one stop into Queens to 21st Street, Queensbridge. W/we know some of Y/you are nervous about coming out, so W/we will have a shuttle from the train to the venue! If Y/you want to walk, it's only a couple blocks! When Y/you get off the train walk down 21st Street to 37th Avenue, then make a left and walk to 11th street. W/we are the blue building with the flags (looks kind of like a castle, Y/you can't miss it!).

It's only a $12-$15 cab ride from Midtown Manhattan! Take 59th street bridge upper level, stay right, take right onto 21 Street, then go 3-4 blocks, take a left onto 37th Ave. 2 more blocks to 11th. Corner of 11th Street and 37th Ave.! W/we are right next to Roosevelt Island, Queens! 10 minutes from Manhattan.