*Personal Orgasm View*
The 3rd Edition: "Liquid Latex"
A New York City BDSM Event & Play Party!!!Brought to you by:
Babylon Entertainment.
Hosted by:
Lady Zombie ™
PLEASE submit Y/your RSVP to LADY ZOMBIE [ASAP]!When:
Thursday, June 4th @ 10PM – 4AM
Where:
Karma Lounge [Now on BOTH floors!]
51 First Ave [Between 3rd & 4th Streets]
New York, NY 10003
Directions By Train:
F or V train to 2nd Avenue
Description:
Cum Reach Y/your Climax @ Karma Lounge with the P.O.V. event!
Kink and play is highly encouraged, so bring Y/your toys!
The theme is "Liquid Latex" – body painting will be available!
THE FLESH IS OUR PLAYGROUND AT POV 3!!!
Click Here To View Event & RSVP
OUR AMAZING LINE-UP!!!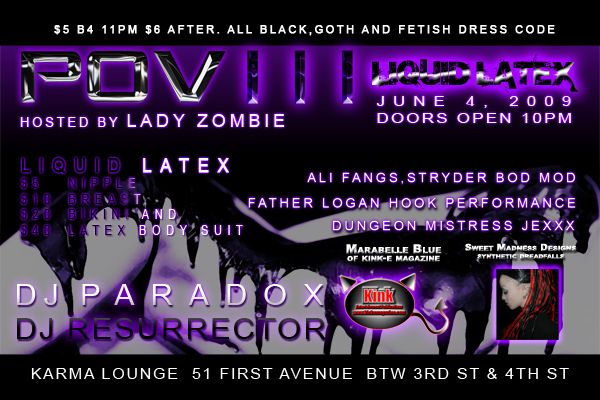 VERY IMPORTANT:
21+ ONLY with valid state ID or US Passport.
Blue Jeans & Sneakers are not acceptable.
Fetish attire preferred and Gothic clothing welcome.
Well dressed in all black is a minimum to enter.
ALSO FEATURING:
- Body Piercings by: Stryder.
- Custom Fangs by: Ali's Savage Traits.
- Body Airbrushing Designs by: Lance Tyler.
[Additional fees required for body piercings/fangs/airbrushing/latex paint!]
Previous REVIEW of P.O.V.
Check it out here:
http://poontalk.wordpress.com/
By: William Carmody
P.O.V. was listed on Marquis Fetish Blog!
http://marquisfetishblog.com/events
For more information, contact:
Lady Zombie or Babylon Entertainment!
Hugs, Kisses & Triple Sixes,
Lady Zombie
Previous P.O.V. Photos: